P125 Consumer Rebate 2020
VALID FOR PURCHASES 03/01/20-03/31/20
Have a rebate already? Click here to redeem it on Yamaha's website. Rebates must be claimed by 4/30/20.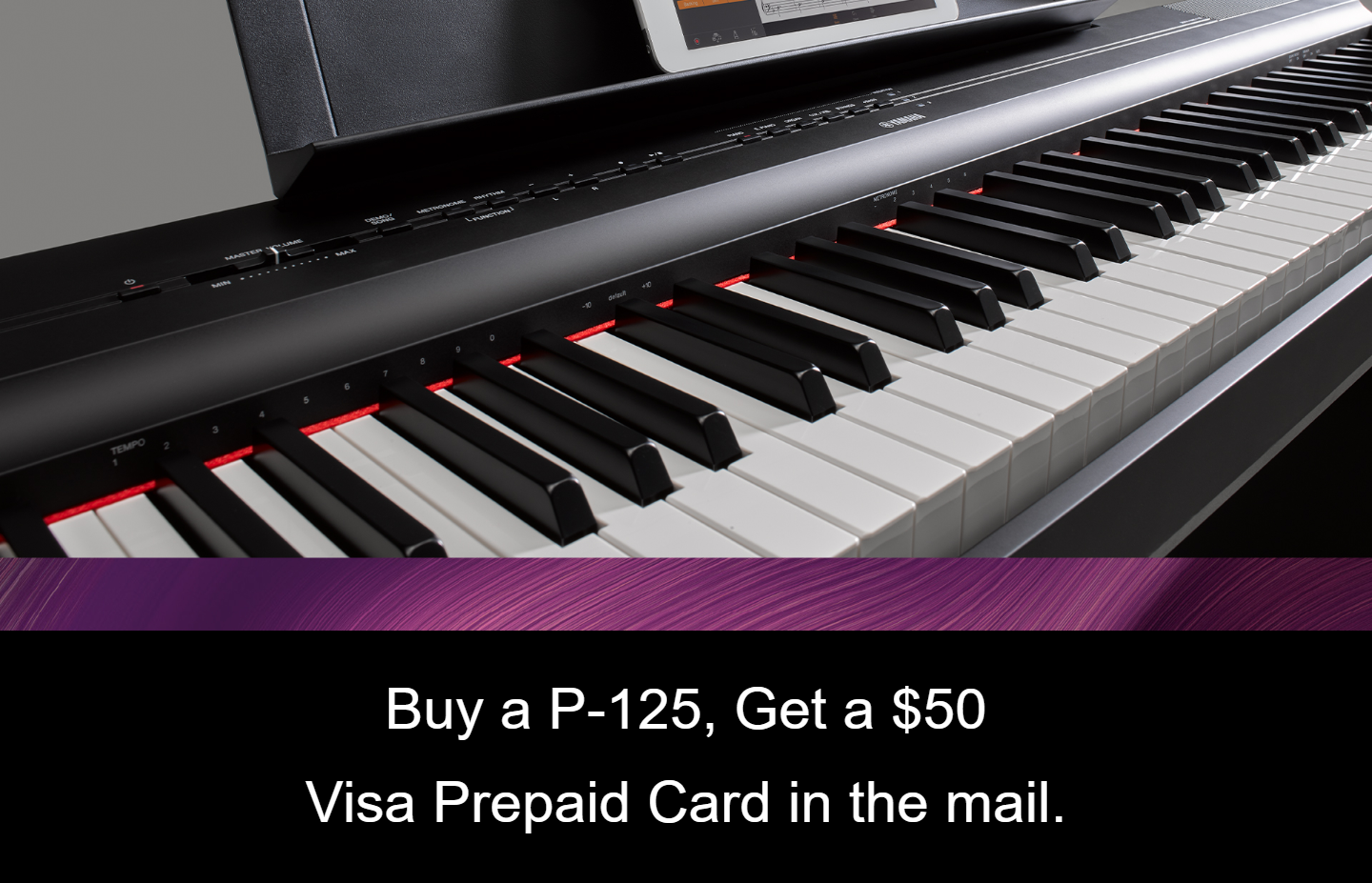 Register your valid purchase of a P-125 on Yamaha's website, and get $50!
The P-125 is a compact, digital piano that combines incredible piano performance with user-friendly minimalistic design. Easily portable and extremely accessible, the P-125 is always ready to perform whenever or wherever you are.
P125 Product Info Page  |  Claim Your Rebate
VALID FOR PURCHASES 03/01/20-03/30/20. REBATES MUST BE CLAIMED BY 04/30/20.
Terms and Conditions
You must be 18 years or older. Offer valid only on purchase of a new model Yamaha P-125 from an authorized Yamaha dealer, between March 1 – March 31, 2020, or while supplies last. Owners of a new, eligible Yamaha P-125 may qualify to receive a VISA® Prepaid card* valued at $50. Used, demo, or B/C stock models not eligible. Follow instructions to submit your rebate claim online at www.usa.yamaha.com/promotions. Sign in and register to claim your rebate using My Account. Rebate claim must include serial number of purchased P-125, plus an electronic copy of your original sales receipt identifying the qualifying P-125 purchase, the authorized Yamaha dealer, and the date of purchase. Upon validation, you will receive a gift certificate number, which you must redeem at www.yamahamusicrewards.com. All claims must be received by April 30, 2020. Late submissions will not be accepted. Proof of submission is not proof of receipt. No responsibility is assumed for faulty transmissions or any failure or interruption of electronic communications. Offer valid only in the 50 United States and D.C. Rebates will not be mailed to addresses outside the 50 United States or D.C. No P.O. boxes (other than in ND). Limit one claim per household/group/institution, per product, and per address, as allowed by law.
All claims are subject to validation. Yamaha reserves the right to request additional information to validate any claim. Any such request will be sent to you solely via email, to the email address you supply with your initial submission. You are responsible to supply a valid, correct, and current email address. Yamaha is not responsible for any failure of online communications, including but not limited to your failure to receive email due to an incorrect, invalid, or non-current email address, or email communications that your receiving email system screens out due to your failure to set your email to accept email communications from support@yamahamusicrewards.com. If we request additional information, you must respond within 10 business days or your submission will be deemed incomplete and invalid.
Allow 8-12 weeks for validation and issuance of rebate. Void where prohibited, taxed, or restricted. Fraudulent submissions will not be honored and may be prosecuted. Cannot be combined with any other offer. If you have questions about the status of a claim, email support@yamahamusicrewards.com. By participating in this promotion, you agree to these Terms & Conditions and Yamaha's Privacy Policy, as stated herein.
* Visa® Prepaid cards will expire when the "Valid Thru" date identified on the front of the card has passed. The funds on the Visa® Prepaid card will not be available after expiration, so you should use the funds prior to the "Valid Thru" date on the front of the Card. Visa® Prepaid cards are valid wherever Visa® is accepted and subject to standard terms of Issuer. Visit https://www.intelispend-staging.com/cardholder-agreements/Visa-US-Promo-Cardholder-Agreement.pdf and www.MyPrepaidCenter.com for applicable Cardholder Agreement.
---