---
Warranty Information | Register Your Piano
YAMAHA PIANOS
Craftsmanship and innovation in perfect harmony
For over a century, Yamaha has blended a tradition of Japanese craftsmanship with innovations in modern materials and sound to create pianos of exceptional tone and breathtaking beauty.
At the heart of Yamaha piano making lies an unwavering commitment to "creating Kando and enriching culture with technology and passion born of  sound and music." Even after more than 100 years of renowned piano production, this basic philosophy still holds true. That's why Yamaha produces each and every component that goes into its pianos and why every aspect of that production is carried out with cutting edge technology and unsurpassed craftsmanship under Yamaha's own strict standards for quality control.
Spruce Soundboard
At the Yamaha lumber mill and wood processing facility, the finest spruce is quarter sawn; and less than 10% of the total is selected and reserved for Yamaha piano soundboards. Solid spruce, rather than laminated spruce or poplar, is the choice in all fine pianos for the best amplification of sound, best tone and sustain.
Full Length Ribs
Yamaha reinforces the crown in its soundboards by using ribs that continue to the edge of the soundboard, and are glued into the notched liner (or inner rim on the grand piano). Reinforcing the crown ensures that the tone quality will remain for years and years and improves tuning stability.
V-Pro Plate
Yamaha uses V-Pro (Vacuum Shield Mold Process) in casting the iron frame (plate). V-Pro plates are stronger and visually more appealing. Critical dimensions are produced more accurately than before.
Metal Action Rails
Yamaha engineering developed a unique Extruded Aluminum Alloy Action Rail (bearing a Yamaha patent) that is one of the best innovations for improving a piano action in the last 100 years. The usual fluctuations in wood rails that effect touch, caused by periodic weather changes, are eliminated allowing stable, long-lasting action regulation.
Balanced Action
Each key of a Yamaha piano is individually tested and measured for the corrections needed to obtain uniform "down weight" pressure. Yamaha actions play correctly and uniformly. This balancing helps ensure a lifetime of superior touch and control across the keyboard.
Uniform Key Travel
Yamaha designs all grand and vertical pianos to have the same key travel. Regardless of size, type or model of Yamaha piano, the keyboards will always feel the same.
Spruce Keys
Yamaha uses Spruce for the keys on all models of pianos. Spruce is very light and possesses a very high ratio of strength to weight. It is ideal for key construction, even though its cost is greater than either sugar pine or bass wood. Yamaha keyboards respond quickly providing fast repetition for the most intricate piece of music. Yamaha keyboards withstand heavy use over years of fortissimo passages.
---
⚜
GRAND PIANOS
The ultimate expression of the pianos maker's art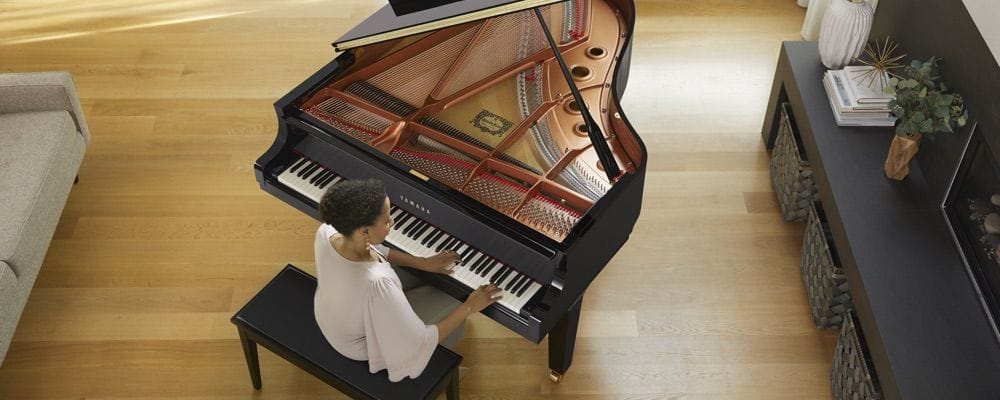 Over a century of distinguished grand piano making
Unparalleled in their beauty and musical range, grand pianos are the ultimate expression of the piano maker's art. Yamaha is proud to present a comprehensive line of incomparable grands, reflecting the very latest in Yamaha acoustic and technological advances.
It starts with over 12,000 parts
Yamaha grand pianos are fashioned from the finest aged woods and the world's most advanced materials. Each piece is assembled by artisans in a tradition of old world craftsmanship. When it all comes together, and you touch the perfectly balanced keys and hear the rich harmonics and subtle, silky colors, you know it's not just any grand piano. It's a Yamaha.
Crafted with uncommon care and integrity
Yamaha grand pianos have earned a global reputation as instruments of outstanding quality and value. Renowned for their eloquent expressive range, and for their reliable performance over time, they play an important role in the performing arts and music education. They are consistently among the pianos most highly recommended by piano tuner/technicians and a leading choice of pianists at all levels, all over the world.
The Yamaha reputation rests on a century-long tradition of uncompromising care and craftsmanship, supported by an unmatched range of integrated expertise, top-of-the-line production facilities, and an exceptionally skilled, knowledgeable and dedicated workforce. Our strength in the full range of relevant technologies allows us to produce virtually every part of every piano ourselves – an approach that has helped us initiate significant advances and set what has long been recognized as the industry standard in quality control.
An open dialog with professional musicians generates invaluable input that, in conjunction with sophisticated research facilities, has led to continual advances in each new generation of Yamaha pianos. Our global network offers Yamaha customers additional advantages, from cost-efficient regional manufacturing to the ready availability of sales and support throughout most of the world.
Balancing cutting-edge technology and innovation with the timeless skills of expert artisans, Yamaha pianos have come to represent an unsurpassed standard of affordable excellence. It is a standard that continues to generate ever-higher acclaim and make Yamaha grand pianos the first choice of many of the world's most discriminating pianists.
⚜
UPRIGHT PIANOS
Setting the standard by which uprights are measured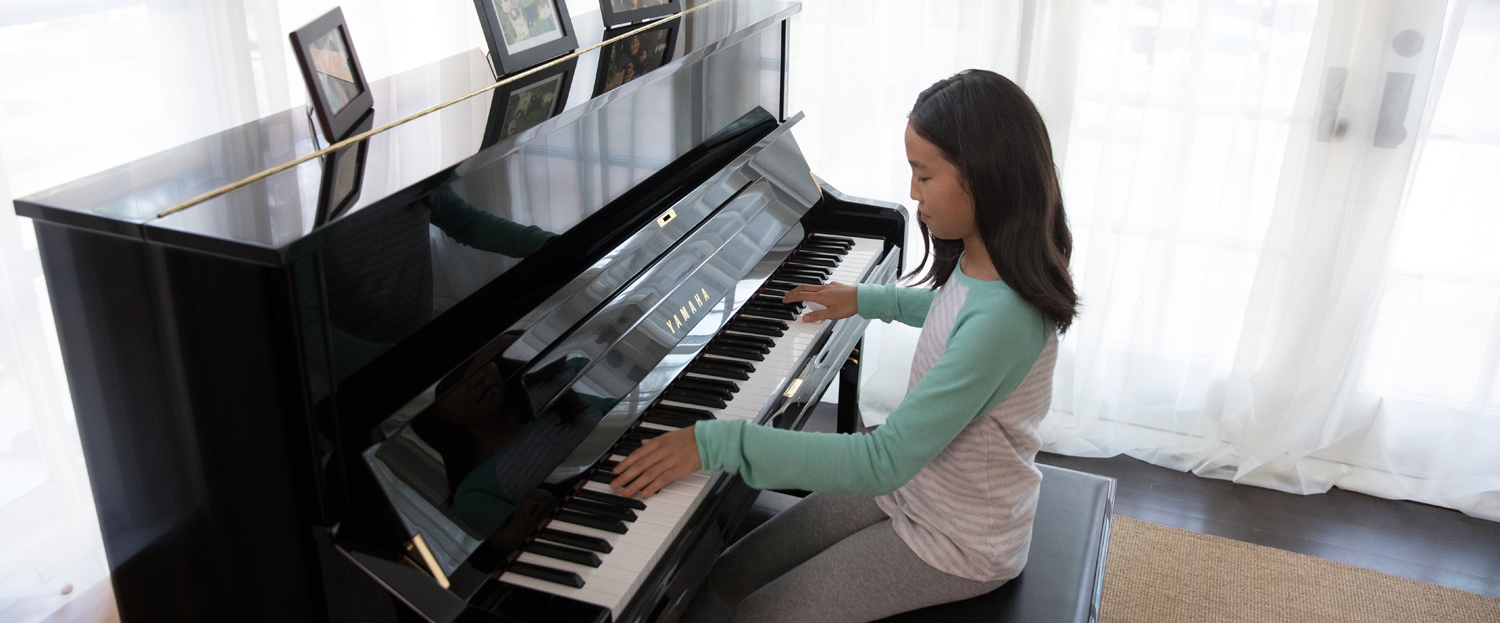 In 1900, Yamaha changed the way the world thought about uprights. More than a century later, Yamaha continues to redefine what an upright can be, thrilling players of all levels with its rich, resonant tone, reliable action and incredible value. Yamaha innovations make these pianos better than ever, year after year. Yamaha upright pianos have inspired musicians for more than half a century. Each piano is crafted with a touch, tone and beauty that's meant to be passed down from one generation to the next. Yamaha upright pianos can be found in the practice rooms, classrooms and stages of the top conservatories and schools of music in the country. With over 4 million upright pianos sold since 1967, more schools play Yamaha upright pianos than any other. Yamaha upright pianos from the Kakegawa factory are imbued with Yamaha's passion for sound and are made with skills amassed through history and tradition. And these same skills have been passed down to the craftsmen at the Yamaha factory in Indonesia.
What's the best way to recreate the touch and tone of a grand piano in an upright? You take everything you learn from a century of crafting grand pianos and turn it on its head. Literally. Which might explain why more professionals choose Yamaha upright pianos for their practice spaces, recording studios and small stages.
---
⚜



The world's most advanced piano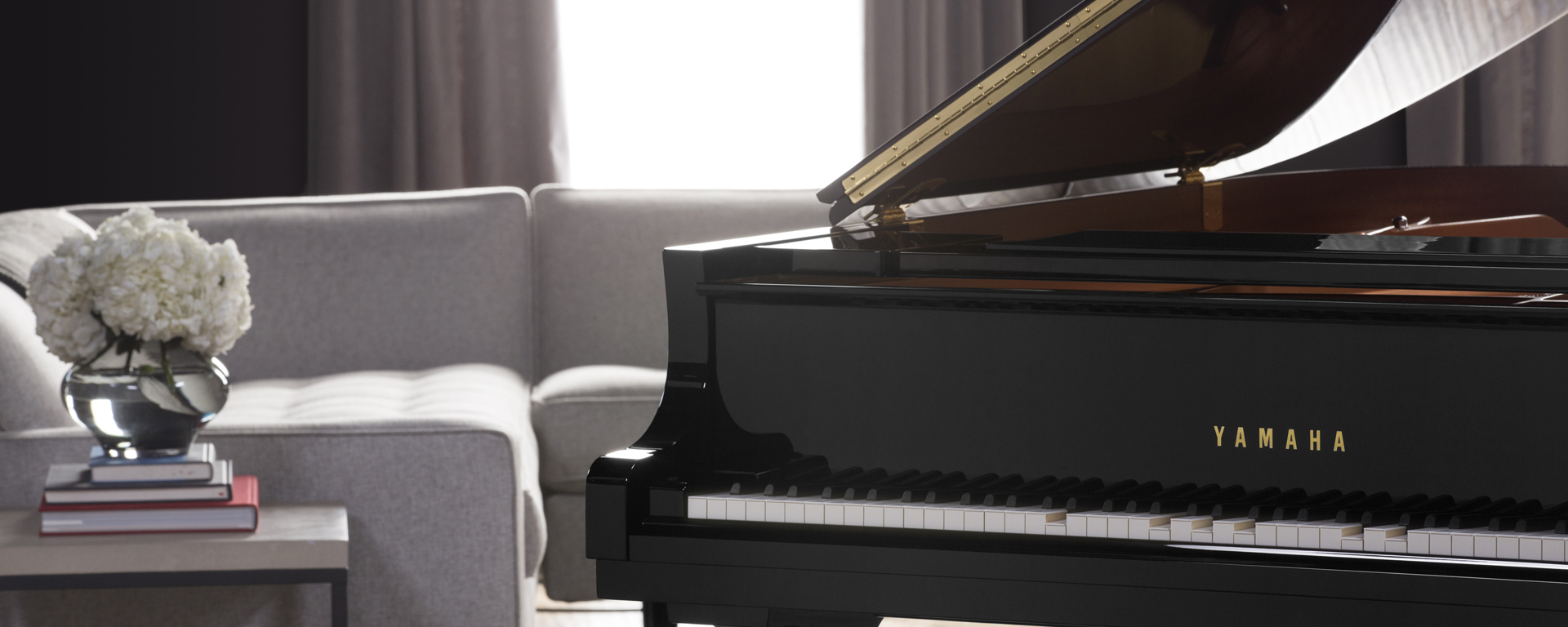 ⚜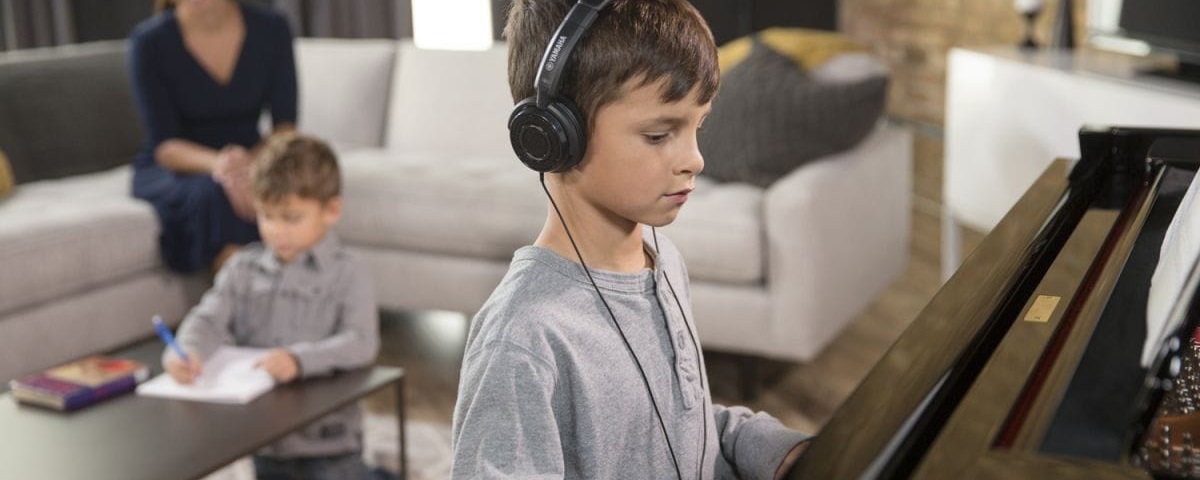 ⚜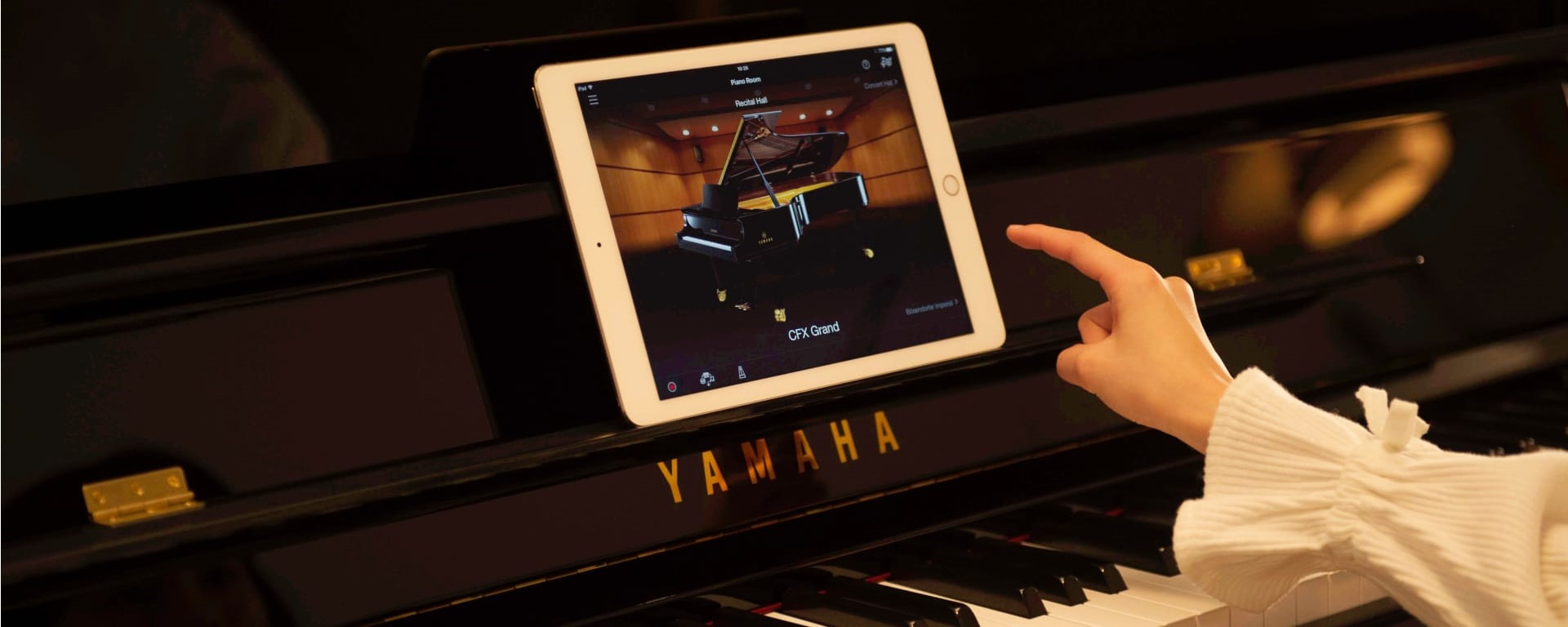 ⚜
---
⚜
CLAVINOVA
The piano that changed everything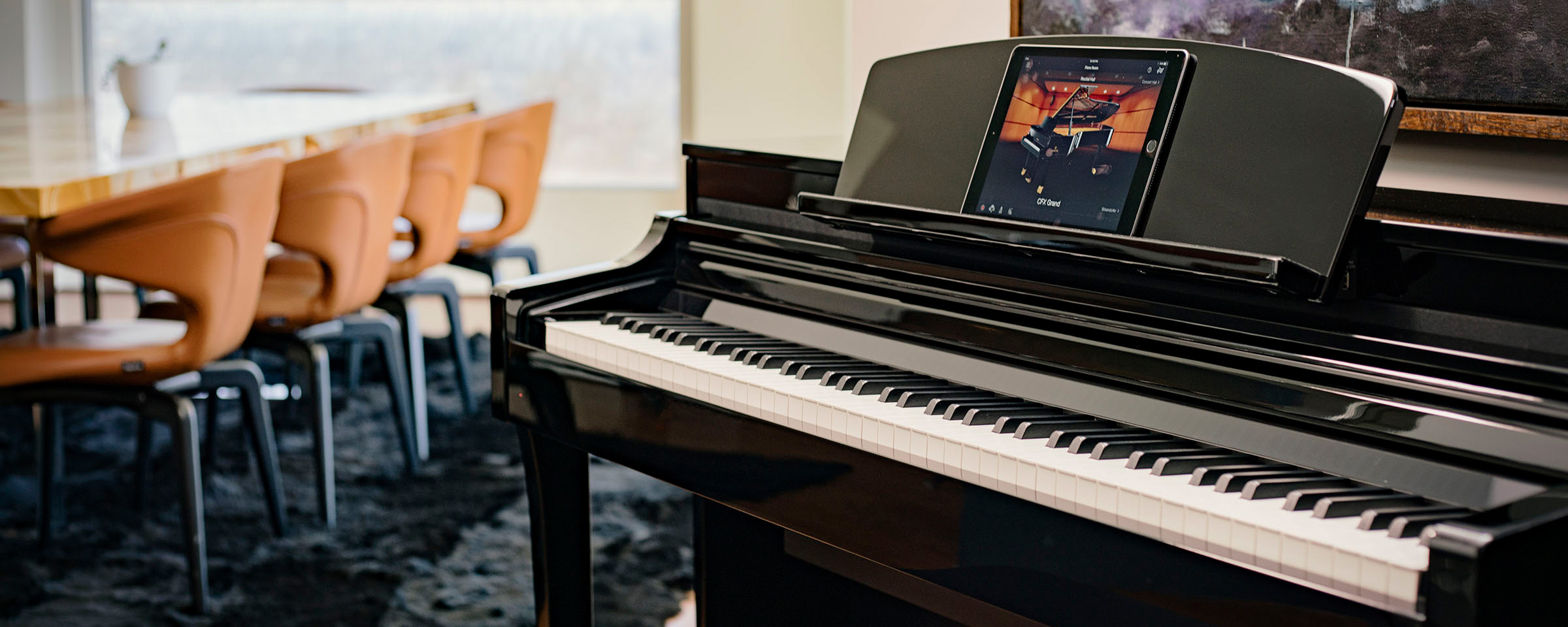 ⚜
ARIUS
Grand tone for smaller spaces
⚜
PORTABLES
The world's most popular digital pianos